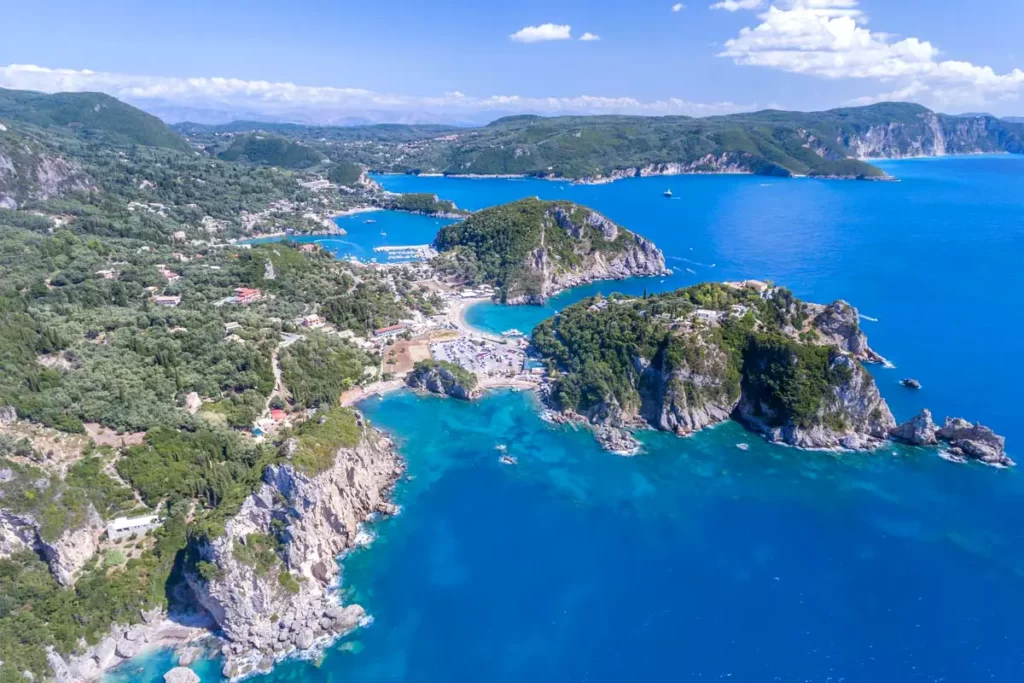 Paleokastritsa Corfu: Paleokastritsa is arguably the most famous picturesque village of the island of Corfu located 25 km northwest of Corfu Town. The word Paleokastritsa literally means old fortress, witnessing the existence of such a castle on the rocky cave where now stands the Monastery of the Virgin.The village of Paleokastritsa offers a plethora of local taverns overlooking the blue bay and six sandy and pebbled beaches which are scattered all around the area.
Those beaches are surrounded by olive tree forests creating a dramatic yet beautiful scenery.
This cosmopolitan resort stretches along a coastal road around stunning bays and a picturesque harbor where the excursion boats depart for the nearby and isolated beaches.
The settlement itself retains its traditional charm and character whereas today it is considered one of the main tourist attractions in Corfu displaying a great number of hotels, bars and restaurant. At the end of the road, right after the main harbor is the Monastery of the Virgin that dominates the village.
The monastery hosts an interesting collection of post-Byzantine icons, books and other objects. The main beach of Paleokastritsa is quite small but extremely known for its cold waters and delightful environment.
It is considered as one of the best beaches in the Greek islands. It is surrounded by many bars and taverns, therefore, it is rarely quiet during the day. The area offers some excellent sea views.
The countryside is magnificent. Apart from the main beach there are narrow paths leading to other smaller coves, suitable for bathing. The monastery of the Virgin was founded in 1225, though the building the visitor sees today dates only from the 18th-19th centuries. There is a museum with Byzantine and post-Byzantine icons.
Legend has it that the small island of Kolovri at the entrance to the bay is a pirate ship which was turned to stone by the Virgin Mary, in this way protecting the monastery and the local population. Aggelokastro is the westernmost outpost of the Despotate of Epirus, to which Corfu belonged until 1267.
Source: www.greeka.com
More usefull info At WikipediA